CH 77 Ranabot OK-UHA-75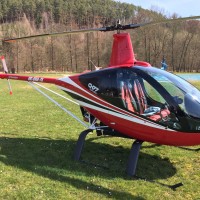 Year of manufacture: 2015
Flight hours: 485
Color: red
Price: more info at: +420 777 960 028, e-mail: servis@mamba-air.cz

Extra accessories:

Vertical compass, Becker 8.33 kHz with antenna, trig TT21 A / C / S transponder with antenna, 403 mc Fligtcom intercom, 2-jack headphone extension and 6-pin (6 pin Lemo) jack for direct battery-powered headphones, LED indicator lights on instrument panel, capacitive fuel gauge with cabin fuel gauge, electric front and rear trim, swivel control levers, hot-water heating with fan, high leather genuine leather seats, 12 V socket, 2x power supply socket USB, external charging station connector to maintain charged battery, head pockets, rotor brake, rotor brake aerodynamic cover, safety lockable door locks, rear view fuel camera with image transfer to cockpit, dual LED beacon with strobe and position lights, lighting xeon landing ramp, aerodyna leaf-end sprinklers, fletters, main and rear reducer metal chip detectors, round air vents, dual miniplug pins, helicopter waterproof cover, Rotax 914 turbo Epa Power 130 HP engine with enhanced performance, Rotax 914 flexible clutch to protect the engine.

Not crashed.
Regular service in authorized service.
Always garaged only in a warm, heated and dry hangar.
Only one pilot at a time!